Youth, experience and a Superbike rider confirmed for Phillip Island S5000 test
John Martin, Luis Leeds and Beau Beaton will get behind the wheel of the S5000 race cars at Phillip Island next week, taking part in the driver test and evaluation day.
The trio – all with varied racing backgrounds – will take part in the test as they work towards finalising deals to compete in the historic opening event for the new S5000 class at Sandown on September 20-22.
It will be Martin's second outing in the new, big horsepower wings and slicks race car after a successful test at Queensland Raceway recently.
Martin is no stranger to high performance open wheelers, having raced in categories such as Formula 3, A1GP and SuperLeague Formula.
The test will be Leeds' first drive of the car, having honed his open wheel craft in local and international open wheel competition.
Leeds, 19, was recently crowned the CAMS Australian Formula 4 Champion, and is using the test to gauge his interest in the class.
While Beaton has never competed in a race car, he is no stranger to high performance motorsport. The Mid north coast local has been brought up in the motorcycle road racing scene and has competed in Australia and around the world. 
A regular over the past decade in the Australian Superbike scene, he has raced Ducatis, Suzukis and BMWs, and has a long-standing relationship with the K-Tech Irving Vincent team, who are behind Beaton's S5000 bid.
GRM is taking five cars to Phillip Island for the private test ahead of the Sandown S5000 race weekend, with more drivers expected to be confirmed for the test in the coming days.
As many as 14 cars will compete at Sandown, headlined by Formula 1 Grand Prix race winner Rubens Barrichello.
Tickets for the Sandown event are on sale. CLICK HERE for details.
QUOTES
John Martin
"It's another opportunity to drive the car, and it's a good opportunity to drive one of the new cars, tune it up with a view is to get as much knowledge as we can before Sandown," said John Martin.
"We certainly want to do Sandown, but I need a couple more things to fall into place before it is confirmed.
"These S5000 cars are so cool. I definitely want to be involved and there's a lot of really positive hype and talk about it.
"For sure, my priorities for Sandown is my TCR Honda, but if there's a way that I can make the S5000 work, I'll be doing it."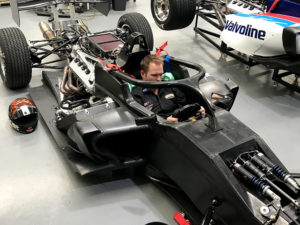 Beau Beaton
"In the last 18 months, I haven't done a great deal of racing after I had an racing accident in January, so I'm really itching to get back into some competition," said Beaton.
"I have a long relationship with Ken and Barry Horner from Irving Vincent Motorcyles. Their business does a lot with GRM, so that's how this how all come about.
"But I have to admit, I was baffled when Barry Horner told me this is what they're doing at Phillip Island. Don't get me wrong, I'm excited, but it's daunting at the same time.  
"I'm really over the moon, and I can only be thankful for the opportunity.
"It's two extra wheels than I'm used to, but I will have the right people around me at GRM. The plan is to see how I adapt to four wheels motorsport and see what happens.
"Not only am I looking forward to driving the S5000 with 570 hp, but I'm thankful that this test is at a track that I know like the back of my hand. Track knowledge isn't going to be an issue at Phillip Island."